Benefits of Renting a House During National Vacation Rental Month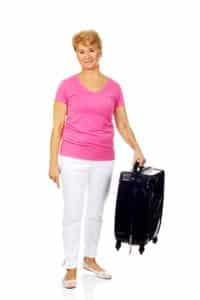 July is National Vacation Rental Month. With many families looking ahead to family road trips and experiences, making plans as early as possible and being ready to enjoy your time together without worrying about your family being safe, comfortable, and having their needs met is incredibly important. As a family caregiver, this can be particularly important as you look for ways to maintain your care routine while on vacation. This can mean choosing a vacation rental over a hotel could be a fantastic way to make your trip even more successful.
Some of the benefits of renting a house for your trip during National Vacation Rental Month include:
More space. When you choose a vacation rental, you have far more space than if you packed the entire family into hotel rooms. With a rental, you have an entire house at your disposal, usually for far less than multiple hotel rooms, which helps everyone stay more comfortable.
More privacy. Along with more space comes more privacy for everyone in the family. Multiple bedrooms mean parents, children, and grandparents can all have their own space to relax, spread out, and feel more at ease during the trip.
More amenities. Especially when caring for an elderly adult, the amenities available during a trip are very important. A house gives you the option of doing laundry, cooking full meals, and spending more time enjoying activities together with the rest of the family rather than always having to go on outings. This makes the trip more convenient, and your care efforts more accessible. The option of preparing meals and snacks also saves money and time while ensuring your parent's dietary needs are followed.
Traveling with an elderly adult can pose a wide variety of challenges. If you are planning a vacation with your family, but don't feel your aging parent is up for traveling, or would not enjoy the trip, now may be the time for you to consider respite care. With this type of senior care, you can take the time off you need while still feeling confident your parent has consistent, personalized care. A respite senior home care services provider steps in on an emergency or temporary basis to provide care and support to your senior so you can take time off to handle other needs in your life, or just for a break. This can be for a few hours one afternoon, or even for a few days so you can get-away with your family. The care provider will follow your parent's schedule as much as possible and ensure they have the support and assistance necessary to manage their needs and support quality of life while you are away.
If you or an aging loved-one are considering Senior Care in Indianapolis, IN, please call the caring staff at Home Services Unlimited. Serving Greater Indianapolis Area. Call for Immediate Info & Assistance: (317) 471-0760
Etelka Froymovich founded Home Services Unlimited in 1997
As a practicing Registered Nurse, Etelka was keenly aware of a void in quality patient care that could be provided in the home. She embarked upon a journey to develop a home health care agency that would exceed all expectations and become a trusted partner to physicians and patients.

A Distinguished Career From Nurse to Director of Nursing to President of Home Services Unlimited

Etelka's distinguished career followed a logical progression to her position as President of Home Services Unlimited. She graduated as a nurse practitioner with a Bachelor of Nursing (RN) in 1972 from Meshgorya University in the Ukraine, close to where she lived with her family. She married her husband Phil in 1973 and decided in 1977 that they would relocate to the United States to be closer to family and to come to this land of opportunity. With an eagerness to continue her budding career, Etelka sat for and passed her Boards in the U.S. in 1979.

A Love and Talent for Working with the Elderly

Etelka began her nursing career in the U.S. at Colonial Crest, now part of Golden Living, where she was the In-service Coordinator, the Director of Training and Education and Director of Nursing, a position she occupied for several years.

With a group of partners, she co-founded Adept Corporation, which operated group homes for the mentally challenged. The business was successful and in 1996, Etelka sold her share to return to her roots, caring for the elderly.

In January of 1997, Etelka opened Home Services Unlimited as a fully licensed business to provide home health care. In her quest to learn to do better for her patients, she had already obtained a Masters in Healthcare Administration (MHA) in May of 1990 from the College of St. Francis. As President of Home Services Unlimited, Inc., Etelka guides the trusted, experienced care model Home Services Unlimited uses to continue providing excellent home health care.

Giving Back to the Community of Indianapolis

Volunteering for community services is a high priority for Etelka. Her memberships include the Indiana Association of Rehabilitation Facilities, Executive Women in Health Care and the Indiana Association for Home and Hospice Care, where she is a member of the Board of Directors.

Etelka has also served on the Board of Directors with Hooverwood Home, a highly regarded geriatric facility, since 1997 and as the President for 2005-2006. Through her community work, she has received several awards and accolades, including the Nora McFarland award in 2002, from the Indiana Association of Home and Hospice Care.
Latest posts by Etelka Froymovich, RN, MHA (see all)