How Can Diabetes Affect Eyes?
Are eyes the first thing you think of when you think of diabetes? Probably not. But the truth is that diabetes can cause serious eye complications that can even lead to vision loss. If you're a family caregiver to an older adult who has diabetes, learning more about diabetic eye disease could help to prevent vision loss. Since November is Diabetic Eye Disease Month, what better time than now?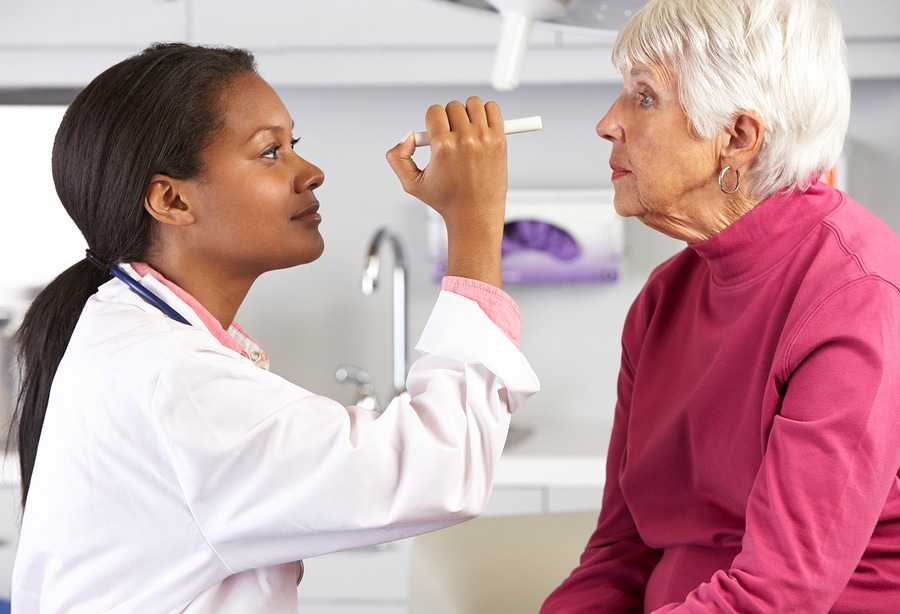 How Diabetes Can Damage Eyes
Just as high blood sugar levels can damage other parts of the body, it can also harm the eyes. Having high blood sugar can make tissues in and around the eyes swell because it affects fluid levels. Usually, the blurriness is temporary and is resolved when blood sugar levels return to normal.
When blood sugar levels remain high for a long time, it can harm the blood vessels located in the back of the eyes. Fluid may leak out of the blood vessels. Additional blood vessels may also form in the eye, but they won't be as strong as they should be. The weak blood vessels may bleed or make pressure in the eye too high. They can also cause scarring.
Kinds of Diabetic Eye Disease
Diabetic eye disease isn't really a disease itself. Instead, it's a term that is used to describe a group of diseases. Diseases that fall under the umbrella of diabetic eye disease are:
Glaucoma: People with diabetes are at double the risk of developing glaucoma. It is a condition that damages the optic nerve. People with glaucoma might not have any symptoms at first. As the disease progresses, it causes vision loss.
Diabetic Retinopathy: The retina is located at the back of the eye. Its purpose is to take light and translate it into signals for the brain that the brain uses to determine what you're seeing. Blood vessels that are damaged can result in damage to the retina. Initially, the blood vessels may bulge, leak, or get weaker. Later, the blood vessels can become blocked, which makes the body produce new blood vessels. These new blood vessels result in loss of vision.
Diabetic Macular Edema: The macula is part of the retina that makes it possible to read, drive, and see faces. The damage done to the macula by diabetic macular edema results in loss of sharp vision.
Cataracts: Cataracts make the normally clear lens of the eye turn cloudy so that it is difficult for light to pass through. People with diabetes often develop cataracts at a younger age than they would otherwise.
If your aging relative has eye problems due to diabetes, senior care can help them manage the disease and improve their quality of life. Senior care providers can remind them to use medications prescribed by the doctor and drive them to eye exams. A senior care provider can also help them with things that are difficult due to low vision. Senior care providers can help them read their mail, books, newspapers, and magazines. Senior care providers can also help them to walk safely, avoiding uneven surfaces or items they may trip over.
If you or an aging loved-one are considering hiring Homecare in Greenwood, IN, please call the caring staff at Home Services Unlimited. Serving Greater Indianapolis Area. Call for Immediate Info & Assistance: (317) 471-0760
Sources
Etelka Froymovich founded Home Services Unlimited in 1997
As a practicing Registered Nurse, Etelka was keenly aware of a void in quality patient care that could be provided in the home. She embarked upon a journey to develop a home health care agency that would exceed all expectations and become a trusted partner to physicians and patients.

A Distinguished Career From Nurse to Director of Nursing to President of Home Services Unlimited

Etelka's distinguished career followed a logical progression to her position as President of Home Services Unlimited. She graduated as a nurse practitioner with a Bachelor of Nursing (RN) in 1972 from Meshgorya University in the Ukraine, close to where she lived with her family. She married her husband Phil in 1973 and decided in 1977 that they would relocate to the United States to be closer to family and to come to this land of opportunity. With an eagerness to continue her budding career, Etelka sat for and passed her Boards in the U.S. in 1979.

A Love and Talent for Working with the Elderly

Etelka began her nursing career in the U.S. at Colonial Crest, now part of Golden Living, where she was the In-service Coordinator, the Director of Training and Education and Director of Nursing, a position she occupied for several years.

With a group of partners, she co-founded Adept Corporation, which operated group homes for the mentally challenged. The business was successful and in 1996, Etelka sold her share to return to her roots, caring for the elderly.

In January of 1997, Etelka opened Home Services Unlimited as a fully licensed business to provide home health care. In her quest to learn to do better for her patients, she had already obtained a Masters in Healthcare Administration (MHA) in May of 1990 from the College of St. Francis. As President of Home Services Unlimited, Inc., Etelka guides the trusted, experienced care model Home Services Unlimited uses to continue providing excellent home health care.

Giving Back to the Community of Indianapolis

Volunteering for community services is a high priority for Etelka. Her memberships include the Indiana Association of Rehabilitation Facilities, Executive Women in Health Care and the Indiana Association for Home and Hospice Care, where she is a member of the Board of Directors.

Etelka has also served on the Board of Directors with Hooverwood Home, a highly regarded geriatric facility, since 1997 and as the President for 2005-2006. Through her community work, she has received several awards and accolades, including the Nora McFarland award in 2002, from the Indiana Association of Home and Hospice Care.
Latest posts by Etelka Froymovich, RN, MHA (see all)